Are you looking for the best email verification software? Then Emailable is the most accurate and secure email verification platform. Emailable is one of the top email verification service providers. However, like everything in life, every product comes with its unique set of advantages and disadvantages. In this Emailable review, we will explore its distinctive features, pricing, pros, and cons, customer reviews, ratings, alternatives, and more!
Why email verification is important?
Email verification is crucial for any business or individual that relies on email communication. Verifying email addresses ensures that messages are delivered to the right people and reduces the risk of being marked as spam or end up in a recipient's junk folder.
It also helps to maintain a clean and engaged email list, which can improve the overall effectiveness of email marketing campaigns. Email verification is an essential step in managing and maintaining a healthy email list, and can save time, resources, and money in the long run. Now it's time to review the Emailable verification platform.
Emailable Review : Overview
Emailable is an email verification service that provides a simple and accurate solution for businesses and individuals who need to manage their email lists. The service offers 99% accuracy and an easy-to-use interface that makes the email verification process straightforward and accessible, even for those without technical expertise.
With Emailable, users can verify a large number of emails quickly and reliably, thanks to the service's advanced algorithms that detect invalid, risky, and valid email addresses. The verification process is highly accurate and includes detailed reports on each email, which helps users to clean up their email lists and avoid sending messages to inactive or disengaged subscribers.
Emailable has an excellent customer base of more than 1000. They believe in and trust the Emailable verification service. Some of the reputed clients are Sodexo, SAP, Plex, Pfizer, Sage, Disney, CyberGhost, Zumper, Sprinter Neogrid, and many more.
Just create account and Get 250 free credits
How does Emailable work?
Its works in simple three steps.
Step1
Emailable works by using advanced algorithms to verify the validity of email addresses. The process begins by uploading an email list to the Emailable platform. The service then checks each email address against various databases and performs a series of tests to determine whether the email address is valid, invalid, or risky.
Step2
Emailable checks for several factors to determine an email's validity, such as syntax errors, domain name existence, SMTP (Simple Mail Transfer Protocol) authentication, and more. The service also checks for disposable email addresses, known spam traps, and email addresses that are likely to bounce back.
Step3
Once the verification process is complete, Emailable generates a detailed report for each email address, indicating whether it is valid, invalid, or risky. Users can download these reports and take necessary actions, such as removing invalid or risky emails from their mailing lists.
Emailable's verification process is highly accurate, fast, and reliable, making it an excellent solution for businesses and individuals who need to manage their email lists effectively.
Best features of Emailable
Emailable offer outstanding features that make sure you verify emails with ease. Let look at each Emailable features one by one.
With Emailable, you can effortlessly clean up your email lists and enhance campaign performance. The service's bulk email verifier makes it easy to eliminate bad email addresses, reducing the likelihood of bounces and improving deliverability by up to 99%.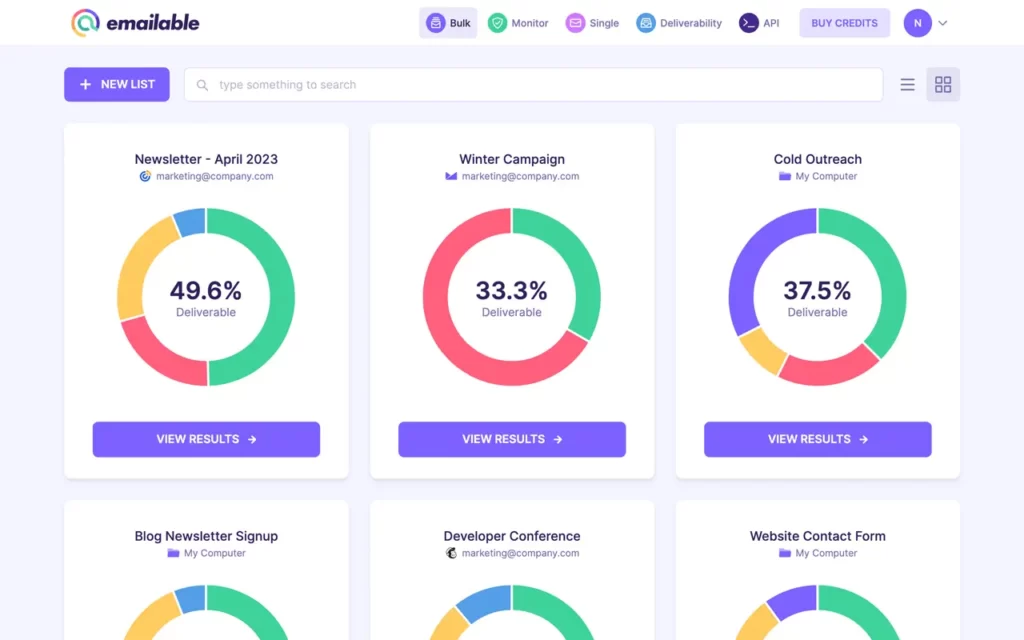 Additionally, Emailable offers APIs that enable users to add email validation features to their own applications, providing an extra layer of functionality and convenience. Say goodbye to ineffective email verification and hello to a streamlined, optimized email marketing strategy with Emailable.
Automate your email verification
With powerful email verification automation, you can sit back and relax while your email list is synced and reverified every day without fail. It ensures that your email list only contains deliverable addresses, eliminating the risk of bounces and improving deliverability.
By using Emailable automation, you can enjoy improved deliverability and secure inbox placement, making it an excellent solution for businesses and individuals who want to streamline their email marketing to achieve better results.
Verify email addresses in real-time with our cutting-edge email checker, right at the point of capture. Adding this powerful tool to your HTML forms is easy – simply copy and paste a few lines of code without any custom coding.
By using our real-time email checker, you can block invalid email addresses before they are added to your database, ensuring that your email list remains clean and engaged. Customize which attributes to include, and integrate the tool into your existing website in no time.
Don't let invalid email addresses infiltrate your database and negatively impact your email campaigns. Use Emailable real-time email checker to ensure that only valid email addresses are captured.
Deliverability Tool Suite
Achieve inbox success with an Emailable deliverability solution. With Deliverability Tool Suite, you can monitor critical metrics that may be preventing your emails from reaching the inbox and gain insights on how to improve them.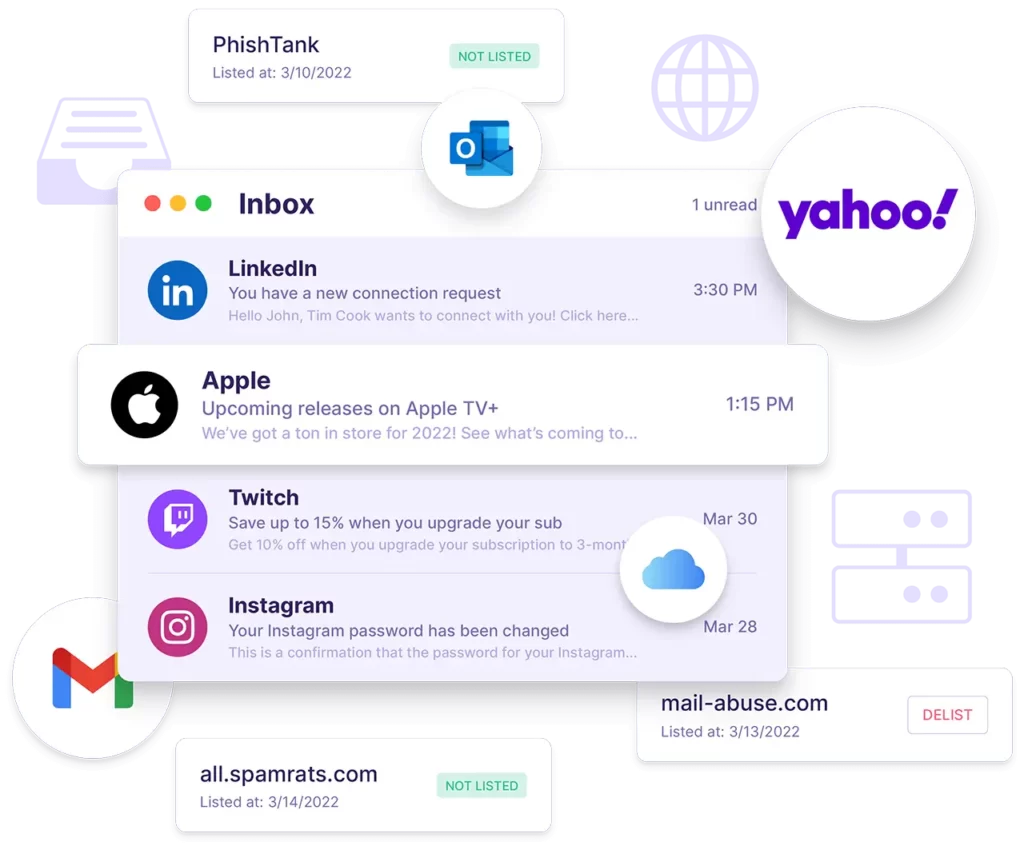 Emailable comprehensive reports provide detailed analysis of key metrics that impact email deliverability, empowering you to make informed decisions to optimize your email campaigns. Additionally, you can monitor your email servers for the most common causes of email deliverability issues, and identify email authentication issues that may be causing delivery failures.
By using our Emailable deliverability solution, you can ensure that your emails hit the inbox and enjoy improved deliverability, engagement, and results.
Simplify the process of importing your email list with our user-friendly interface. You can easily drag and drop or copy and paste your email list directly from your computer, saving you time and effort. No need to worry about complex file conversions or compatibility issues – just quickly and easily upload your list and get started.
In Emailable every email address on your list is assigned a quality score ranging from 0 to 100. This score helps you to determine the deliverability of each email address. It uses sophisticated algorithms to evaluate a range of factors to assign an accurate quality score, giving you the confidence to send targeted and effective email communications.
Seamlessly integrate Emailable with your existing email service provider, CRM, and marketing platforms. Emailable service is designed to work harmoniously with your preferred tools and platforms, enabling you to streamline your email marketing workflow and achieve better results. With easy integration options, you can start using Emailable right away without any disruption to your existing processes.
Emailable also provides excellent customer support, with a team of experts available to help users navigate the verification process and answer any questions they may have.
Emailable Pricing Plans Reviews
Emailable's pricing plans are designed to be affordable and flexible for businesses and individuals of all sizes. Their Free plan offers an impressive 250 credits, which is more than any other competitor in the market. This allows you to test the quality of their email verification service without spending a dime.
For those who need to verify emails on a regular basis, Emailable offers two paid pricing options: the Monthly plan and the Pay-as-you-go plan. With the Monthly plan, you'll be charged on a monthly basis, with costs starting at $25.50 per month for 5000 verified emails, and up to $42.50 per month for 10000 verified emails. By subscribing to this plan, you can save 15%.
On the other hand, the Pay-as-you-go plan offers a more flexible approach, allowing you to pay only when you need to verify emails. With this plan, you can verify 5000 emails for $30 or 10000 emails for $50.
No matter which plans you choose, you'll get access to all of Emailable's features, including benefits like credits that never expire, volume discounts, free unknown results, no hidden costs, and flexible billing options.
Emailable Pros and Cons
Every tool has pros and cons. Let's examine each of them more closely.
Pros
Signup and get 250 credits for free

Cost-effective email verification

Get discounts on higher volume

99% on email accuracy

Safe, secure, and reliable bulk email verification platform

Can automate email verification for daily list cleaning

Provides quality score for every email address on your list

Integrates with popular email service providers and marketing platforms
Cons
Unable to verify Yahoo, Gmail, AOL, and other free email addresses

May encounter integration issues at times

Emailable's API documentation may be complex and difficult to understand for beginners

Some users have reported issues with the accuracy of Emailable's verification results
Final Emailable Reviews and Ratings
After reviewing all the features and using it for a few days, here are our conclusive Emailable reviews and ratings that can aid in decision-making.

Is Emailable the right tool for your business?
Obviously, Emailable is an ideal email verification solution for marketers, sales professionals, lead generators, business owners, startups, digital marketing experts, and anyone who employs email marketing to interact with customers.
Emailable Customer Reviews
Let's take a glimpse at Emailable's customer reviews.
Emailable Alternatives and Competitors
Having read about the limitations of Emailable in this review, if you are still not convinced, there are several alternatives to Emailable that you may want to explore.
Final Thoughts on Emailable Review
In conclusion, Emailable is a reliable email verification tool that offers an array of features to help businesses and individuals ensure that their email marketing campaigns are reaching their intended recipients. It is affordable, flexible, and easy to use, with a variety of pricing options to suit different needs and budgets.
Emailable's key strengths include its accuracy, speed, and ease of integration with other tools and platforms. However, it may have some limitations, such as difficulty verifying certain types of email addresses.
Overall, Emailable is a great option for those looking to improve their email deliverability and reduce bounce rates.