If you're looking for an email finder tool for Linkedin lead generation, you might have already tried a few options but haven't quite found the perfect fit yet. That's where Wiza comes in. Wiza is an excellent option for those in search of the ideal email finder tool for their lead-generation needs. In this Wiza review, we'll take a closer look at how it works, its various features and benefits, pricing, customer reviews, and discounts, as well as the pros and cons of using this tool.
Whether you're an entrepreneur, marketer, or sales professional, the Wiza review will help you make an informed decision about whether Wiza is the right tool for you.
Wiza Review
Wiza is an outstanding email-finding tool that helps you to extract verified email addresses and phone numbers from Linkedin profiles. This tool uses advanced algorithms and artificial intelligence to search for relevant profiles and extract email addresses in a matter of seconds. This makes it much easier and faster for users to find and reach out to potential leads, without having to spend hours on manual research.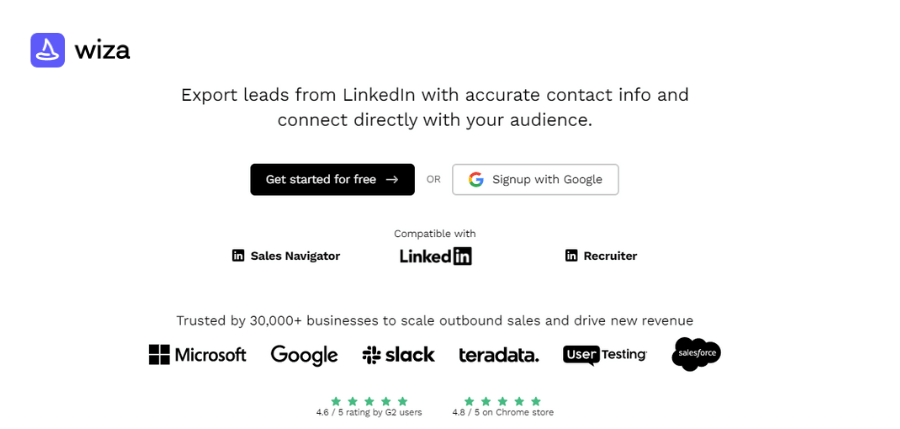 With the Wiza Chrome extension, finding verified email addresses on Linkedin become easier and faster. This powerful tool seamlessly integrates with Linkedin Freemium, Sales Navigator, and Recruiter, making it a go-to option for businesses looking to scale their outbound sales and drive new revenue. And with over 30,000 trusted clients, including tech giants like Microsoft, Google, Slack, Teradata, UserTesting, and Salesforce, you know you're in good company when you choose Wiza.
If you're looking to take your sales game to the next level, Wiza is definitely a tool you'll want to have in your arsenal.
Why should you choose Wiza?
There are several reasons why you should choose Wiza for your Linkedin lead-generation needs:
Wiza uses advanced algorithms and artificial intelligence to extract verified email addresses from Linkedin profiles, making it much easier and faster to find potential leads.
Wiza's interface is designed to be user-friendly, making it simple to navigate, even for those who aren't tech-savvy. The dashboard provides users with an overview of their lead-generation campaigns, allowing them to track the success of their campaigns and make adjustments as needed.
Wiza offers over 30 data points that include name, company, title, location, work email, personal email, mobile number, direct dial, and 21 firmographics.
With Wiza, you can count on real-time prospecting to provide you with the most accurate and reliable data possible. The tool's advanced algorithms and artificial intelligence work in real-time to find and validate the data, resulting in incredibly low bounce rates, highly accurate prospect information, and data that you can trust.
Excellent Customer Support
The Wiza team provides excellent customer support, ensuring that any issues or questions are addressed promptly.
Overall, Wiza offers a powerful and user-friendly solution for those in search of an email finder tool for Linkedin lead generation. Its advanced features, intuitive interface, real-time prospecting, and excellent customer support make it a top choice for businesses of all sizes.
How does Wiza Works?
Wiza is an email finder tool designed for Linkedin lead generation. Here's how it works:
To get started with Wiza, you'll need to install the Wiza Chrome Extension on your browser. This extension allows you to use Wiza directly on your Linkedin Sales Navigator or Recruiter account.
Step 2: Search for Relevant Profiles
Once the extension is installed, you can use Linkedin's search function to find relevant profiles based on your target audience or industry. You can also use Wiza's filters to narrow down your search and find more specific prospects.
Step 3: Extract Data
Once you've found the relevant profiles, you can use Wiza to extract data from them. Wiza's algorithms and artificial intelligence search for relevant data, including email addresses, and extract it from the profile.
Step 4: Validate Data
Wiza then validates the extracted data in real time, ensuring that it is accurate and up-to-date. This helps to reduce the chances of bounced emails and improve the success rate of your campaigns.
Step 5: Export Data
Finally, you can export the extracted data in a CSV file format or integrate it with your CRM or other marketing automation tools.
Best Features of Wiza
With this powerful Linkedin prospecting tool, you can easily create email lists from Linkedin, scrape prospects, and find contact information at scale. Incredibly easy to find contact information for your target audience, with an impressive 86% email match rate and 97% accuracy.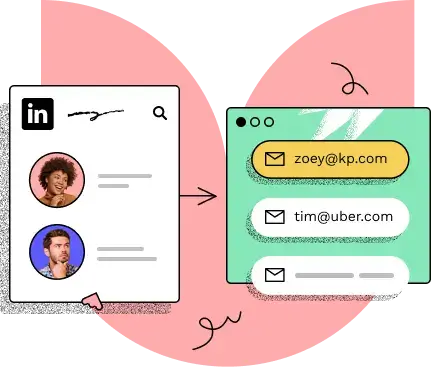 But Wiza doesn't just stop there. It also offers access to over 500 million phone numbers, including direct dials and mobile numbers, making it a powerful tool for businesses looking to reach out to their prospects via phone. And for those recruiting talents, Wiza provides access to private emails, enabling you to make the perfect outreach to potential hires.
Wiza offers 30+ data point enrichment, giving you a wider view of your prospects than ever before. And with Sales Navigator Ready, it's incredibly easy to use. Simply install the Chrome extension, and you can start generating leads directly from your Linkedin search results page, including saved lists.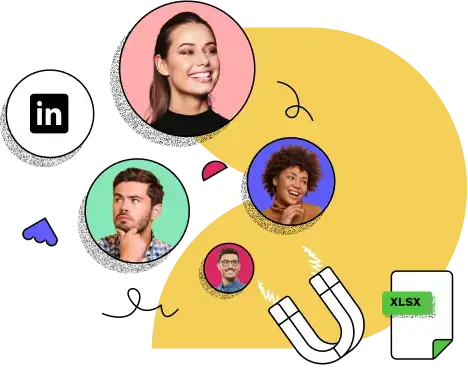 You can use any of the dozens of filters offered by Linkedin and export up to 2,500 results at once. And you can automate tasks and get a notification when it's done. Wiza makes lead-generation campaigns as efficient and effective as possible.
With Wiza's fast and reliable bulk email checker, you can improve your email marketing campaigns and reduce bounces, all at a cost-effective price point.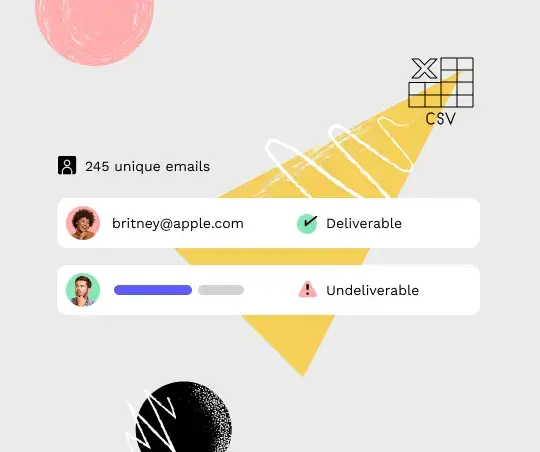 Wiza's state-of-the-art email verification and cleaning solution makes it incredibly easy to clean your email lists and ensure that they're free of dead or invalid emails. Simply upload your email list or import it from any platform, and Wiza will do the rest. You'll be able to download a clean and verified list, giving you the peace of mind that your emails will reach their intended recipients.
Wiza makes it simple to sync your contacts to many popular CRM and outbound marketing platforms, ensuring that your leads are always up-to-date and ready for action.
Whether you use Hubspot, Salesforce, Copper, or another CRM platform, Wiza makes it incredibly easy to send your contacts directly to your preferred system. And if you're using sales automation platforms like Outreach or Salesloft, you can push leads with just a few clicks, streamlining your sales process and improving your team's efficiency.
100% cloud-based platform
Gone are the days of waiting around for your lead generation tools to finish their work. Thanks to Wiza's 100% cloud-based platform, you can run a scrape, close the app, and rest assured that we'll take care of the rest and notify you as soon as your task is completed.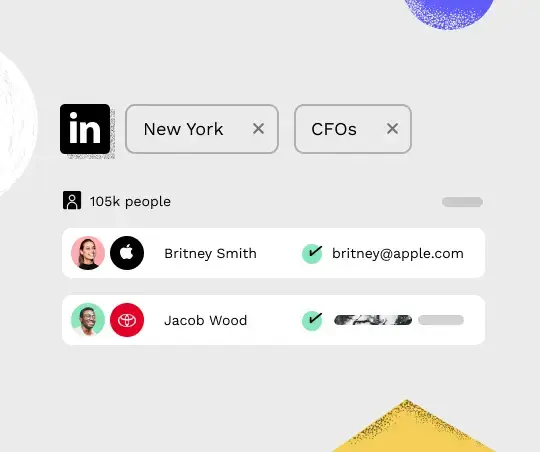 This powerful feature makes it incredibly easy to multitask and stay productive while still getting the lead-generation results you need. Whether you're running a single scan or working on multiple projects at once, Wiza's cloud-based platform ensures that you can stay on top of your work without sacrificing quality or accuracy.
Wiza Pricing Plans Reviews
At Wiza, you can enjoy flexible pricing plans that are tailored to your specific needs and budget. In Wiza, you only pay for the leads generated that meet your criteria and have verified contact information. This ensures that you're always getting the most value for your money and never wasting resources on inaccurate or outdated data. There are three pricing options Micro, Pro, and Grow.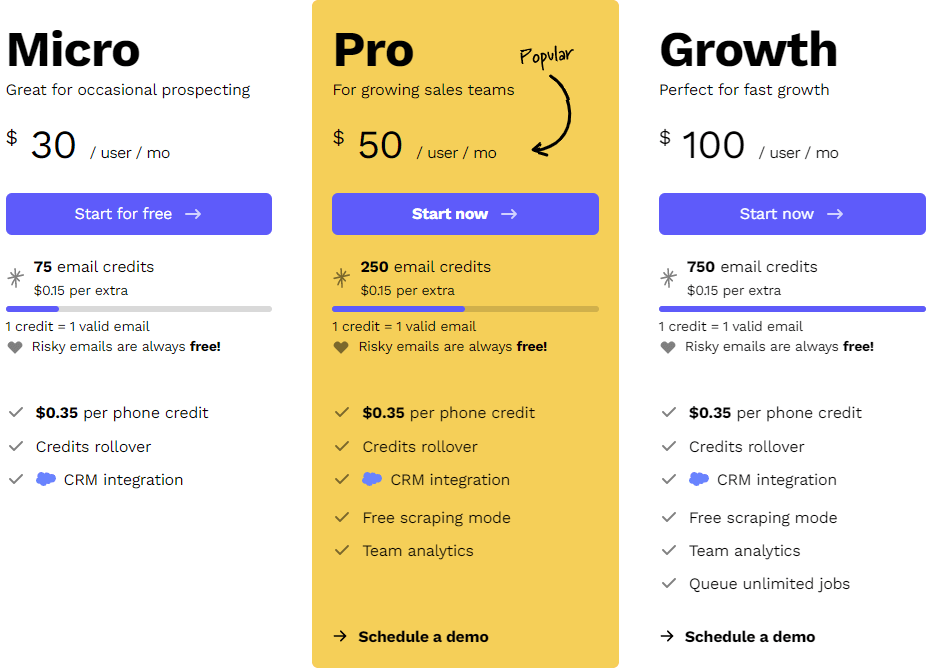 Are you a small business or just getting started with lead generation? The $30 per-month plan is the perfect fit for occasional prospecting.
With this plan, you'll receive 75 email credits per month, where each credit represents one valid email. Need a phone number? No problem. The pay-as-you-go model means you can easily add phone number credits for just $0.35 per credit.
Are you looking to grow your sales team and take your lead generation efforts to the next level? Wiza's $50 per month plan is designed for you.
With 250 email credits per month, you'll have plenty of opportunities to reach out to potential customers and drive sales. And with the credits rollover feature, you'll never lose any unused credits at the end of the month.
But that's not all. Wiza's $50 per month plan also includes CRM integration, allowing you to easily send your leads directly to your favorite CRM platform. Plus, you'll have access to free scraping mode, which allows you to generate leads without using any credits.
And for sales managers, the team analytics feature provides valuable insights into your team's performance, allowing you to optimize your sales process and drive better results.
Are you looking to rapidly scale your business and generate a high volume of leads? Wiza's $100 per month plan is the perfect choice for fast growth.
With 750 email credits per month, you'll have ample opportunities to reach out to potential customers and drive revenue. And you will get features like credits rollover, CRM integration, free scraping mode, queue unlimited jobs, and team analytics.
Don't let anything hold you back. Upgrade to a $100 per month plan and start accelerating your growth today.
Wiza Discount and Offer
Looking for ways to save on your Wiza subscription? Consider signing up for a yearly plan, which comes with a generous 20% discount.
By committing to a yearly subscription, you'll not only save money in the long run, but you'll also have peace of mind knowing that your prospecting needs are taken care of for the next 12 months.
So why wait? Sign up for a yearly plan today and enjoy all the benefits of Wiza's powerful lead-generation tools while saving big on your subscription.
Wiza Pros and Cons
Here are some of the pros and cons of using Wiza for LinkedIn lead generation.
Pros
Realtime prospecting with accurate and validated data

High email match rate with 97% accuracy

Gain access to over 500 million phone numbers, including direct dials and mobile numbers

Private emails for recruiting talent outreach

Plug & play with LinkedIn Sales Navigator and Recruiter

Flexible pricing plans with credits rollover, CRM integration, and team analytics

Pay only for verified contacts

20% discount on yearly plans
Cons
Overall, Wiza is a powerful lead-generation tool that offers real-time prospecting with high accuracy and access to a large number of phone numbers. While it may not be the most affordable option for occasional users.
Wiza Customer Reviews

Is Wiza the right tool for your business?
Determining whether Wiza is the right tool for your business depends on your specific needs and priorities. If you're looking for a reliable and efficient solution to scale your outbound sales and generate leads on LinkedIn, Wiza can be a great option. It offers real-time prospecting, bulk email verification, and seamless integration with CRMs and outbound marketing platforms.
Wiza proves to be a valuable asset for sales, business development, lead generation, and marketing teams, as it helps to amplify lead volume and drive more sales.
However, it's important to consider the pricing plans, which may be relatively more expensive compared to some of its competitors. It's also worth noting that Wiza primarily focuses on lead generation through LinkedIn, so if your business relies on other channels, you may need to consider additional tools or alternatives.
Ultimately, it's best to evaluate your business goals and determine if Wiza aligns with your needs and budget before making a decision.
Final Wiza Reviews and Ratings
After thoroughly using Wiza for a couple of months, here's our final review.

Wiza Alternatives and Competitors
There are several alternatives and competitors to Wiza in the market, including SalesQL, Closely, Octopus CRM, PhantomBuster, FindThatLead and more. Each of these tools offers unique features and pricing plans that cater to different business needs. It's essential to explore different options and compare them before choosing the right tool for your business.
Final Thoughts on Wiza Reviews
After exploring the various features and benefits of Wiza, it's safe to say that it's a powerful tool for lead generation and email verification. Its real-time prospecting, LinkedIn prospecting, and fast bulk email checker features are particularly impressive. However, it's important to note that its pricing plans may be too expensive for some businesses compared to its competitors.
Ultimately, it's worth considering if you're in need of a reliable and effective lead generation and email verification tool.
Frequently Asked Questions
1. Is LinkedIn Sales Navigator required to use Wiza?
Although Wiza can be used with a regular LinkedIn account, some features will be restricted. It's recommended to use LinkedIn Sales Navigator to access 3rd degree prospects and remove search and viewing restrictions.
2. What is the exact charging process in Wiza?
Wiza charges only for each verified email and estimates the cost before the search. The final charge is usually lower than estimated, and Wiza also offers risky emails at no cost.
3. How can Wiza help me find someone's phone number on LinkedIn?
You can easily enhance your Linkedin lead generation with over 30 data points, which include personal email addresses and phone numbers.
4. What is the maximum number of leads that can be extracted from LinkedIn?
Wiza allows for the extraction of up to 2,500 leads from a single Sales Navigator search or saved list, and there are no limits on the number of scans you can run per day as long as you adhere to LinkedIn's fair use policies.
5. How can I export a LinkedIn search to Excel?
Certainly! You have the option to export your customized searches and saved lead lists to Excel or CSV format. Additionally, you can send them directly to your team's CRM, such as Salesforce or Hubspot.