If you're searching for the best email verification tool, you've come to the right place. We have curated a list of the 25 best email verification tools that are cost-effective, reliable, efficient, and accurate to achieve your email marketing goal.
Email verification is a must-have tool for every marketer, sales, business development, lead generation professional, and person who is associated with email marketing.
What Is An Email Verification Tool?
An email verification tool is a software application or online service that is used to verify the accuracy, validity, and deliverability of email addresses. Email verification tools typically work by sending a test email or a series of tests to an email address to determine if it is valid, active, and able to receive emails.
Some email verification tools also check email addresses against databases of known invalid or disposable email domains, as well as check for syntax errors in email addresses. These tools can also help to identify and remove duplicate email addresses from mailing lists and prevent the use of spam traps or other risky email addresses.
The use of email verification tools can help to improve the deliverability and effectiveness of email marketing campaigns, as well as reduce the risk of email bounces, spam complaints, and blacklisting.
What is the Need for Email Verification Tools?
Email verification tools serve a crucial role in ensuring the accuracy and validity of email addresses. The need for email verification tools arises due to the prevalence of fake and inactive email addresses, which can negatively impact email deliverability and open rates. By using email verification tools, individuals and organizations can ensure that their email lists are up-to-date and contain only valid email addresses. This can help to reduce bounce rates, prevent spam complaints, and improve the overall effectiveness of email marketing campaigns.
Additionally, email verification tools can also help to protect against fraudulent activities, such as phishing and account takeover attempts, by ensuring that only legitimate users with valid email addresses can access certain services or information.
How to Choose the Best Email Verification Service?
There are multiple factors to consider when choosing an email verification service. Here are some crucial ones to remember:
1. Accuracy: The accuracy of the verification results is critical to ensure that the email addresses on your list are valid and deliverable. Look for services that have high accuracy rates and use multiple verification methods.
2. Speed: The speed at which an email verification service can verify your list is also important, especially if you have a large email list. Choose a service that can quickly and efficiently verify your list without compromising on accuracy.
3. Cost: Consider the cost of the service and whether it fits within your budget. Look for services that offer competitive pricing without compromising on quality.
4. Data security: Email verification services often require access to your email list, so it's important to choose a service that prioritizes data security and takes appropriate measures to protect your data.
5. Customer support: Consider the level of customer support offered by the email verification service. Look for services that offer timely and responsive support in case you encounter any issues.
6. Additional features: Some email verification services offer additional features such as duplicate removal, spam trap detection, and email list segmentation. Consider whether these features are important to your email marketing strategy.
By considering these factors, you can choose the best email verification service that meets your needs and helps you maintain a high-quality email list for your marketing campaigns.
Top 25 Email Verification Tools to Improve Deliverability
If you are short on time, check out our list of the top 25 email verification platforms to quickly find the one that suits your needs. Just take a glance and make an informed decision.
Are you ready to dive deeper into the world of email verification tools? Let's take a closer look at each of the tools on our list and explore their unique features and benefits one by one.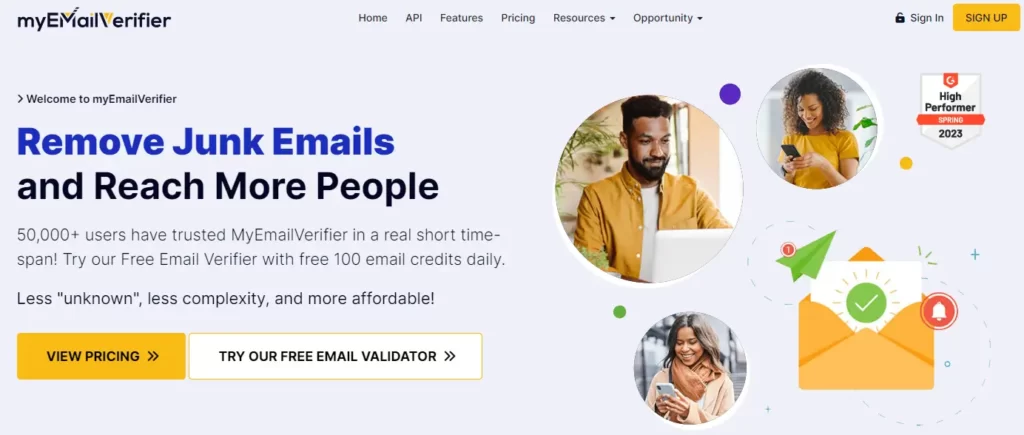 MyEmailVerifier is an industry-leading email validation service that is packed with features to help you clean up your email list, reduce bounce rates, and get your messages into more inboxes.
With a 99% email deliverability guarantee, MyEmailVerifier is one of the most reliable and effective email verification tools on the market. Say goodbye to hard bounces, syntax errors, role-based emails, and other invalid addresses, thanks to MyEmailVerifier's advanced verification algorithms and comprehensive reporting. Discover the full potential of MyEmailVerifier with our in-depth review.
And with competitive pricing, a user-friendly interface, and excellent customer support, MyEmailVerifier is the perfect choice for businesses and individuals looking to improve the accuracy and effectiveness of their email marketing campaigns. Experience the difference yourself – give it a try today!
Pricing
MyEmailVerifier email verification platform offers an unbeatable deal: verify 2000 emails for an unbelievably low price of $4.50 – the ultimate cost-effective solution for all your verification needs!
Claim Your 100 Free Daily Email Credits Now!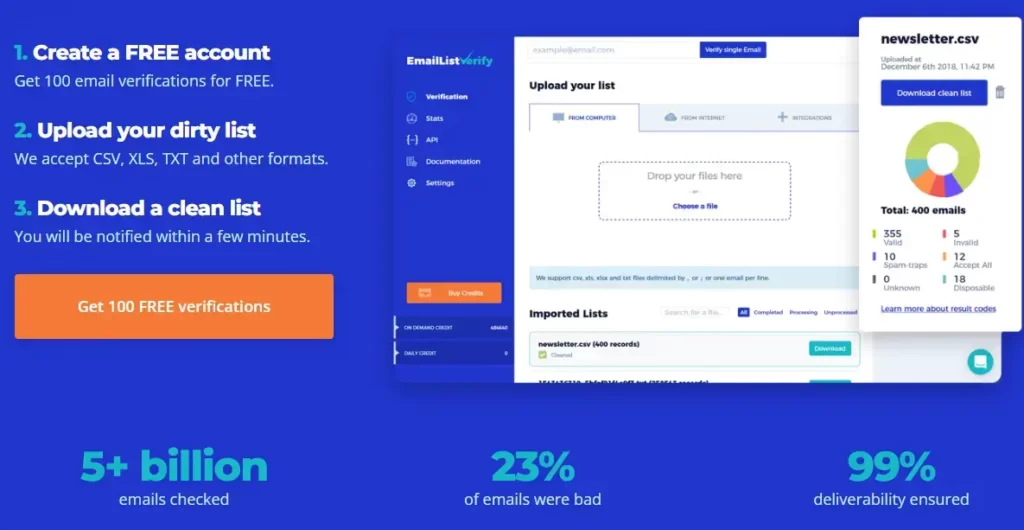 EmailListVerify is a powerful email verification tool that offers superior quality at a fraction of the cost of its competitors. With a wide range of features, including spam trap checking, disposable email cleaning, duplicate removal, and more. EmailListVerify is the ultimate tool for cleaning out unwanted emails and ensuring that your email list is accurate and effective. Don't miss out, read our detailed EmailListVerify review now.
And with clients including Mailchimp, Shopify, and Rackspace, you can be sure that EmailListVerify is a trusted and reliable choice for businesses of all sizes. Start verifying your email list with EmailListVerify today and take your email marketing to the next level!
Pricing
Get your email list verified quickly and affordably with EmailListVerify's flexible pricing plans! Verify 1000 emails for only $4 and 5000 emails for just $15. Choose the plan that fits your needs and budget.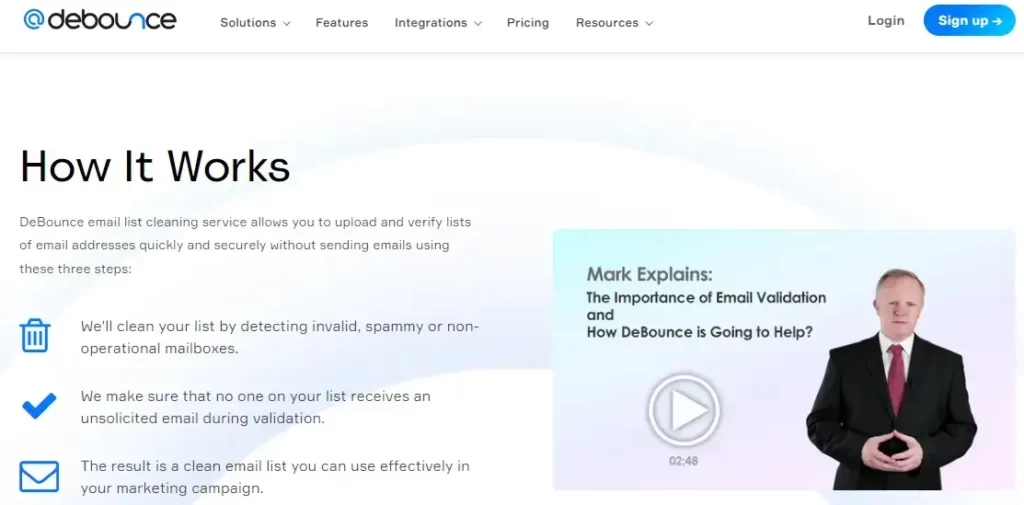 DeBounce is a fast and accurate email verification software that has features to help you remove invalid, disposable, spam-trap, syntax, and deactivated emails from your list.
In DeBounce you can easily validate bulk email lists with just a few clicks. Simply upload your list from your computer or ESP, hit the start button, and let DeBounce do the rest! Just signup and get 100 credits for free to test the accuracy of tools.
You can also integrate DeBounce with third-party tools like Zapier, WordPress, Hubspot, Mailchimp, ActiveCampaign, Mailjet, Mailgun, Klaviyo, SendinBlue, and more. Try out DeBounce today and experience the benefits of a clean and accurate email list!
Pricing
You can verify 5000 emails at a pocket-friendly cost of just $10. Enjoy accurate email verification without breaking the bank. You can also enjoy a 10% discount on every purchase, and there are no monthly payments, no upfront fees, and credits that never expire, making it a risk-free investment for your email marketing needs.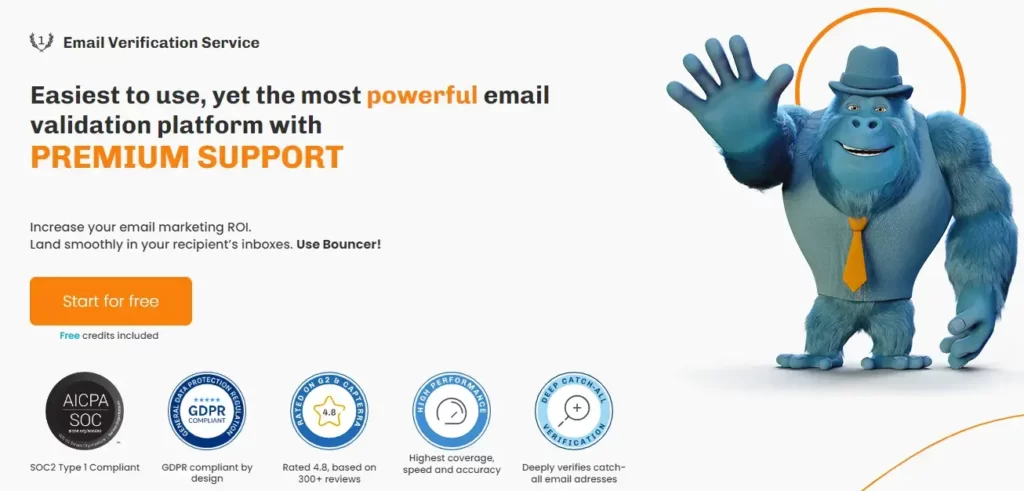 Bouncer is another powerful email verification platform, you can reduce your bounce rate, improve your deliverability, and protect your sender's reputation at the lowest price.
Sending out an email campaign can be a daunting task, but with Bouncer, you can clean your email list quickly and easily, ensuring that your messages are reaching the right people and having the desired impact. With over 1000 companies across six continents trusting Bouncer to verify their email lists and over 2 billion emails verified to date, you can be confident in the reliability and effectiveness of this powerful tool. Check out the full Bouncer Review now!
Some of Bouncer's satisfied clients include MindFire, Mulberry Media, VipeCloud, Woodpecker, BigMailer, HCM Deck, JobCircuits, and more. So why wait? Sign up for Bouncer today and take your email marketing to the next level!
Pricing
Bouncer offers a pricing plan that fits every budget, making it perfect for businesses of any size. Get the highest accuracy email verification for only $7 per 1,000 emails, or verify 5,000 emails for just $30. Choose the plan that suits your needs and budget and start verifying now with confidence!
Try Bouncer Now! Get 100 free credits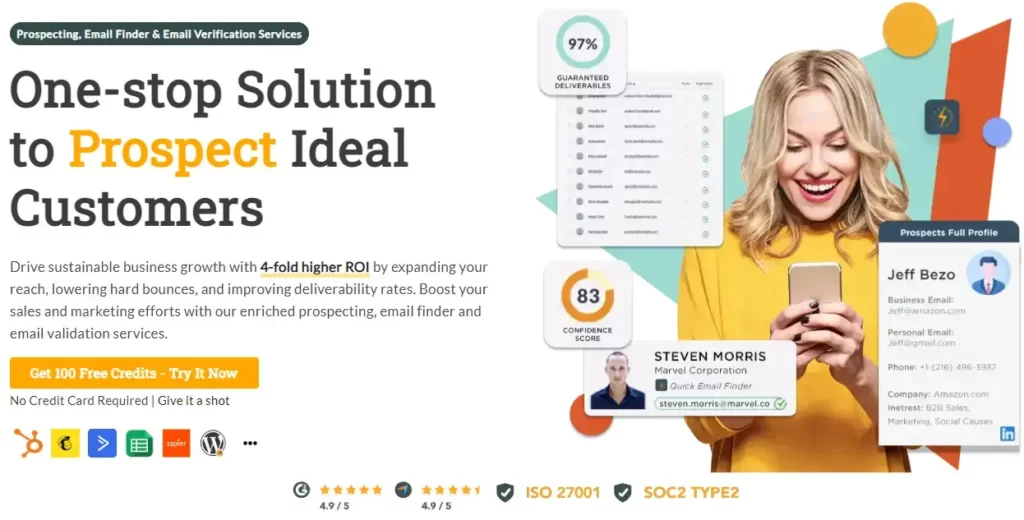 Clearout is a top-of-the-line email verification tool that helps you detect and remove bad emails quickly and easily. It utilizes multiple methods to identify and eliminate duplicate, temporary, and sub-account emails, as well as spam traps, hard bounces, and blacklisted domains.
With Clearout, you can verify email lists in bulk, upload up to 1 million emails at a time for verification, and enjoy real-time verification with its REST API integration. Unlock new B2B lead generation opportunities with its powerful lead finder feature, extracting key data from your subscribers' email addresses and creating a separate, potential lead list for your outreach strategies.
Clearout integrates with a handful of email marketing services, but it makes up for it with its Zapier integration, which can help fill in the gaps. Plus, you can easily export a copy of your list and upload it to Clearout. Overall, Clearout is a powerful and convenient tool that streamlines the email verification process and helps improve your email marketing efforts.
Pricing
Clearout's pricing is designed to provide accurate email verification without any duplicates, making it worth every penny. They offer a 60-day money-back guarantee, no matter the reason, and it will cost you only $21 to verify 3000 emails.
Claim Your 100 Free Credits – Try Now!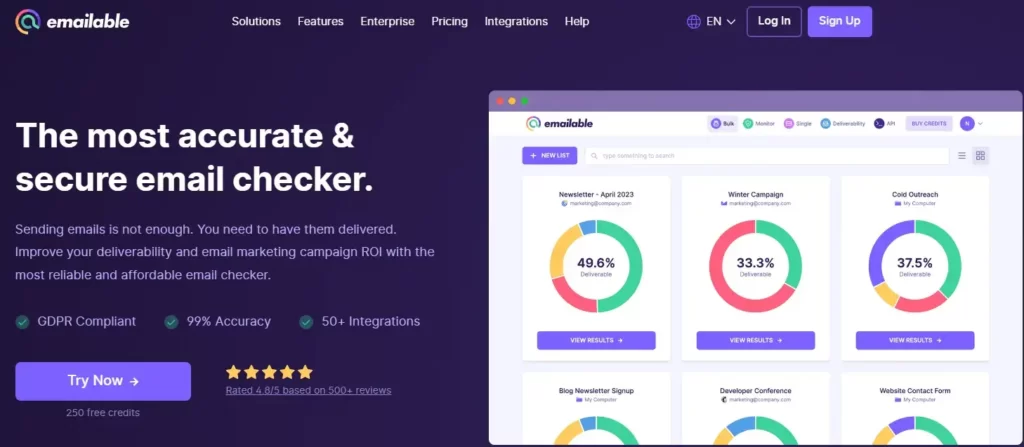 Emailable is one of the outstanding email verification platforms that have an impressive clientele including Seagate, Box, hotmart, Clickfunels, Plesk, SAP, CyberGhost, Sprinter, Zumper, Alibaba.com, Disney, Wework, and EE. With over 19 billion emails processed and 1.3 billion bounces prevented, Emailable is a reliable option for any business.
Emailable's verification process eliminates email addresses with invalid domains and syntax errors. It also detects and removes temporary emails, as well as errors and typos. The tool's catch-all verification feature identifies emails with hard bounce rates and eliminates them from your list. Unleash the power of Emailable with an in-depth review.
Sign up now and receive a whopping 250 free credits to start verifying your email lists with the most reliable and accurate email verification service out there!
Pricing
Get your emails verified with Emailable's customizable pricing plans! Verify 5,000 emails for an unbeatable price of $30, and 10,000 emails for only $50. Don't miss out on this cost-effective solution for your email verification needs.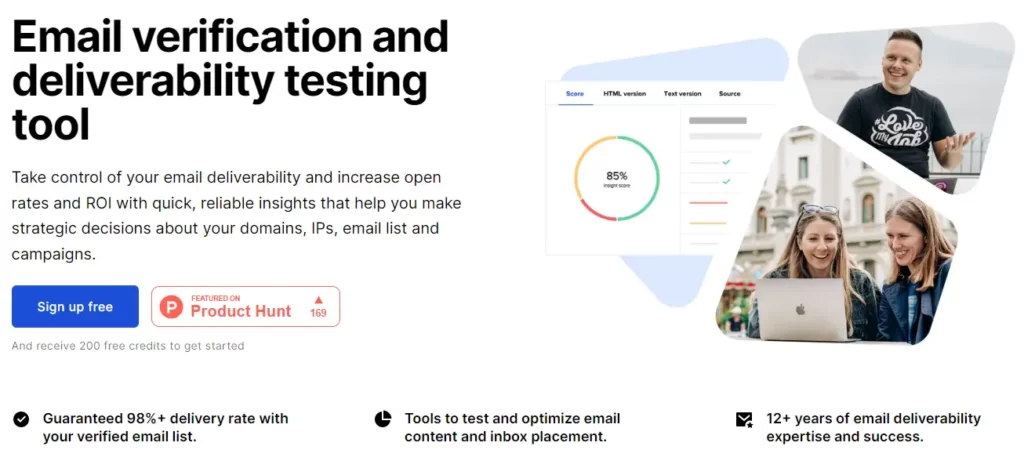 Are you tired of your emails being sent to spam folders? Ready to boost your email deliverability like never before? MailerCheck is the ultimate email verification and delivery tool. With MailerCheck, you can enhance your email campaign response and conversion rate with confidence. Its expert team and experience ensure that your emails are free from spam words, broken links, blocklists, and other issues that prevent your emails from reaching the inbox.
Unlike other email verification platforms, MailerCheck guarantees 98% email deliverability for your verified email list. That's why over 37,590 satisfied customers worldwide trust MailerCheck as their go-to email deliverability solution. With MailerCheck, you'll no longer have to worry about your emails being sent to spam folders. Explore how MailerCheck can elevate your email marketing strategy – read our detailed review.
Experience the power of the MailerCheck platform with 200 free credits! Sign up now and unlock the full potential of cutting-edge email verification services.
Pricing
Upgrade your email game with MailerCheck – pay only for what you need or save with a monthly subscription. Verify up to 1000 emails for just $10, or up to 5000 emails for only $45.
Sign Up Now and Get 200 Free Credits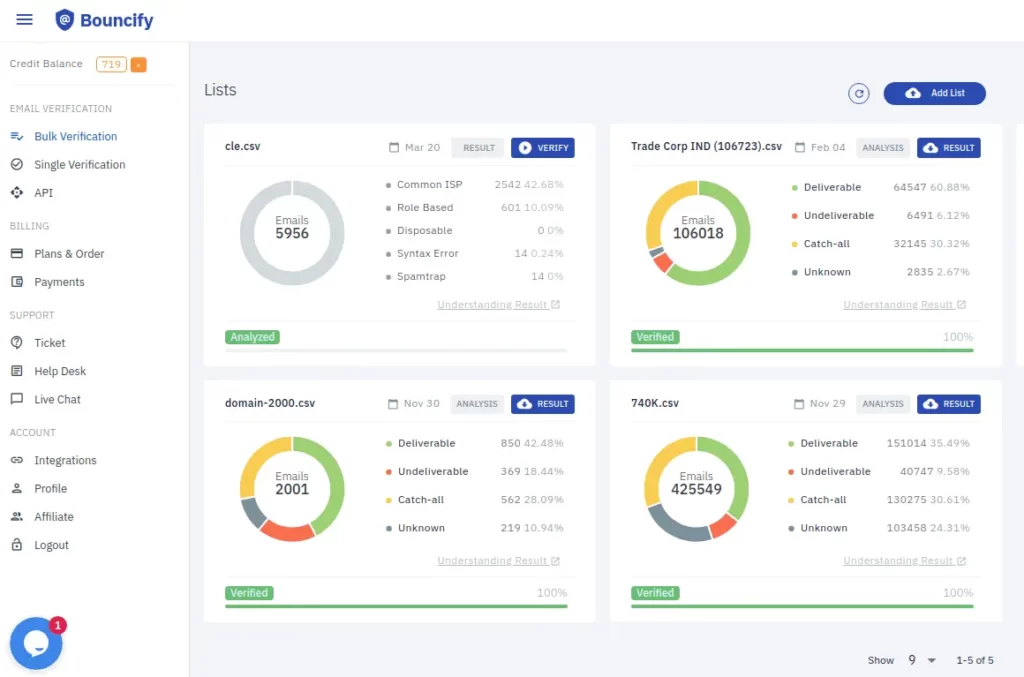 Are you fed up with your email campaigns being hindered by inactive or invalid email addresses? Want to improve your email deliverability and boost your sender reputation? Say hello to Bouncify – the leading email list cleaning and verification service provider that can revolutionize your email marketing strategy!
Bouncify isn't just any ordinary email verification tool. With state-of-the-art features and cutting-edge technology, it can help you clean your email list, eliminate invalid email addresses, and take your email deliverability to the next level. No more worrying about your emails bouncing back or ending up in spam folders – Bouncify has got you covered. Click here to read our detailed Bouncify review now!
Embark on your email verification journey with a free start and unlock the power of an accurate and reliable email verification service.
Pricing
Bouncify is the best and lowest-priced email verification platform. Verify up to 10,000 emails for just $12.60 and 30,000 emails for only $24.31. Get the best value for your money with Bouncify.
Get 100 Free Email Verifications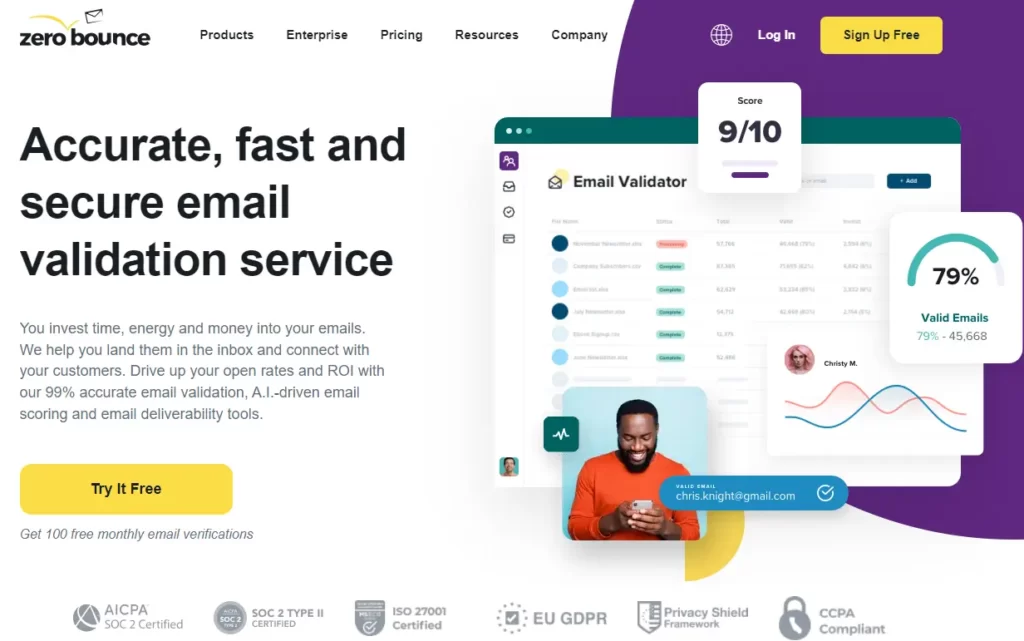 ZeroBounce's cutting-edge solution is trusted by top marketing platforms like Mailchimp, GetResponse, Zoho, Gmail, OmniSend, and Constant Contact to validate email address validity with a 98% accuracy rate.
ZeroBounce takes the guesswork out of email verification with its advanced artificial intelligence technology that identifies active email addresses. And it doesn't stop there – it also detects and removes spam traps, abusive addresses, and non-accepting domains to ensure your email campaigns have the best possible chance of landing in your subscribers' inboxes.
Join the league of top-notch companies like Linkedin, PWC, Netflix, Unilever, XoXoday, Hubspot, Samsung, Amazon, Airbnb, and Sephora that trust ZeroBounce as their go-to email validation service! Sign up today and get your first 100 email verifications for free.
Pricing
ZeroBounce offers unbeatable pricing for email verification. Verify up to 2000 emails for just $15 and 5000 emails for only $35 with the highest level of accuracy and security.

Looking for a user-friendly tool that can boost your email deliverability rates? Then NeverBounce is another email verification software you can consider. With over 125,000 satisfied users worldwide, this top-notch email verification tool offers excellent bulk list cleaning capabilities, ensuring up to 99.9% deliverability.
Verification with NeverBounce is lightning-fast, happening in real-time, so you instantly see which addresses are valid and which need to be discarded. And with more than 80 integrations with various marketing platforms, including Mailchimp, Marketo, Drip, HubSpot, Campaign Monitor, and Salesforce, it's a breeze to tap into your existing mailing list and improve it. Plus, new integrations are being added all the time, so you can be sure you're always up-to-date.
Pricing
NeverBounce's email verification service is priced at $8 for 1000 email verifications and $40 for 5000 email verifications, which is higher than some of the competitors mentioned in this list.

Are you tired of sending emails to invalid or inactive email addresses, which damages your email reputation? Then, you need the MillionVerifier #1 email verification service in your arsenal – the ultimate solution to ensure the accuracy of your email list. With over 99% verification accuracy, this comprehensive email verification service helps you identify and eliminate invalid and inactive email addresses, while preventing your emails from getting flagged as spam or bouncing back.
It offers a wide range of verification options, including email list verification, bulk email verifier, email verifier API, and automated email verification, all in one place. Eliminate your email delivery obstacles and defend your email reputation with the top-rated email verification service.
Pricing
MillionVerifier offers flexible credit-based pricing for email verification services that can be used for single email checking, email list cleaning, bulk email verification, and verifying lists imported from your ESP and email verifier API. Plus, credits never expire so you can use them whenever you need to. Get 2000 email verification credits for just $4.90 and 10,000 email verification credits for only $37.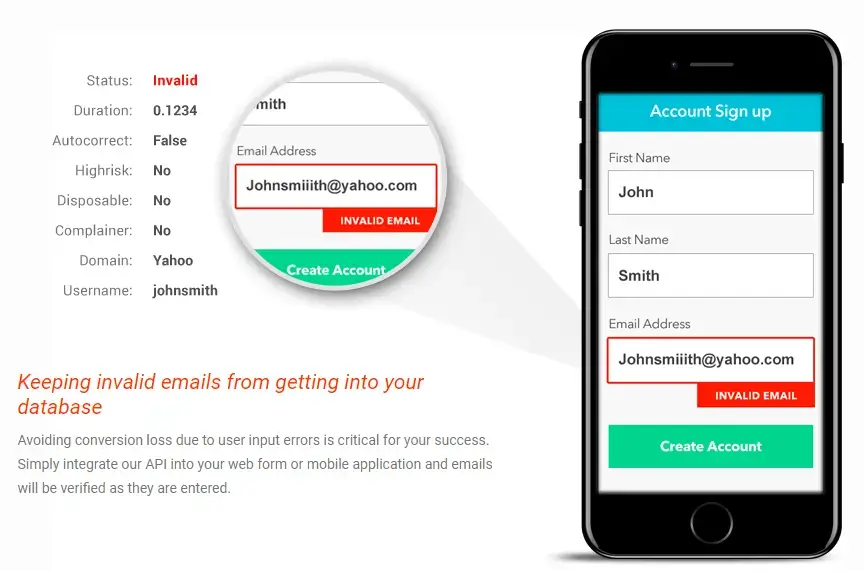 Are you tired of losing potential leads to invalid email addresses? XVerify is the ultimate solution for converting customer data into real leads. Its cutting-edge service ensures that the username exists in the domain, resulting in the highest accuracy rates in the industry. Plus, it can verify all the major consumer email providers, including Yahoo, Gmail, AOL, and Hotmail. No more worrying about hitting the spam folder or losing conversions due to typos and errors.
Easily integrate XVerify API into your web form or mobile applications. Emails are automatically verified as they are entered, ensuring that only valid email addresses make it into your database. Don't let invalid email addresses hold back your marketing efforts. Sign up with XVerify today and start seeing inbox success!
Pricing
XVerify provides a flexible pay-as-you-go pricing model with no minimum requirements and no setup fees. You can verify 2000 emails for just $20 and 5000 emails for $40.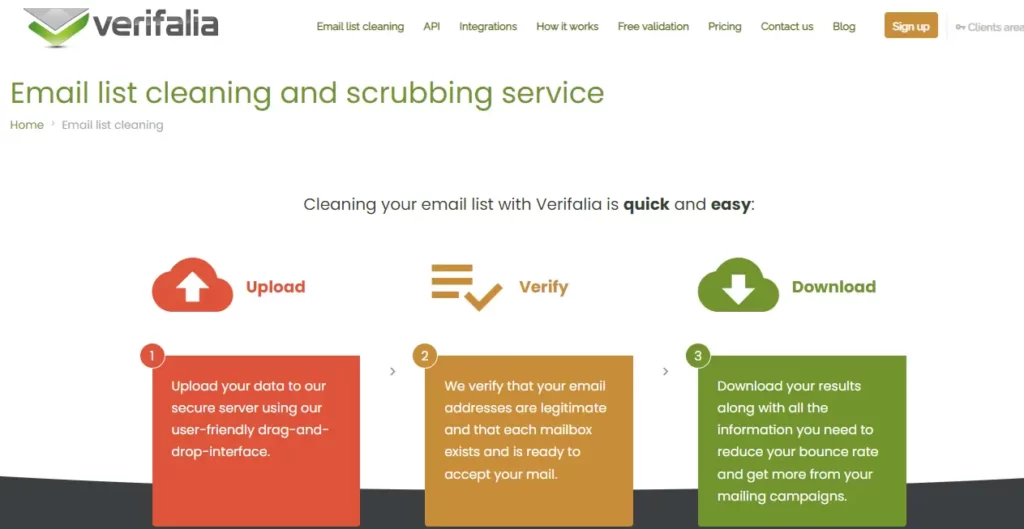 Verifalia is a reliable email verification service that ensures the cleanliness of your email list by removing invalid, risky, and mistaken email addresses. With Verifalia, you can protect your sender reputation, reduce your bounce rate, and keep your important emails out of your clients' spam folders. Let Verifalia help you maintain a clean and effective email marketing campaign.
Pricing
In Verifalia, with $7.90, you can verify 1,000 emails, and $28.90 will verify 5,000 emails. You can buy credits in credit packs for periodic list cleaning or as a backup to protect against overages. These credits do not expire, and the bigger the pack you purchase, the better the price.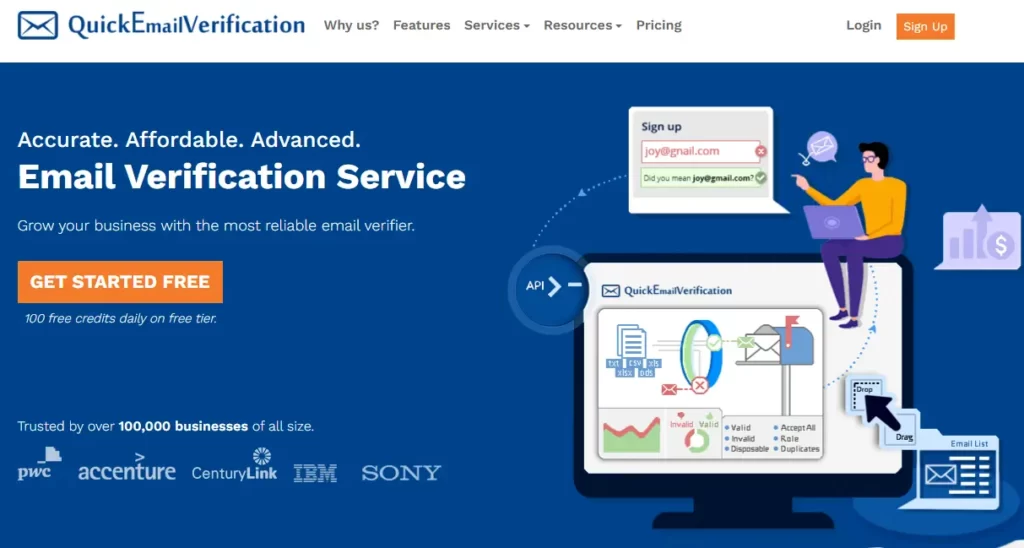 QuickEmailVerification is a company dedicated to helping businesses improve their email marketing efforts by reducing email bounce rates, improving email deliverability, and ultimately increasing their marketing return on investment. QuickEmailVerification helps organizations ensure that their emails reach their intended audience and avoid getting flagged as spam or bouncing back.
QuickEmailVerification offers email list verification services with a 99% accuracy rate and a fast turnaround time. Their features include bulk email verification, real-time email verification API, spam trap detection, and email deduplication.
Pricing
QuickEmailVerification provides various pricing options that cater to different email verification needs. The platform charges $8 to verify 1000 emails and $35 to verify 5000 emails, allowing users to choose a plan that fits their budget and requirements.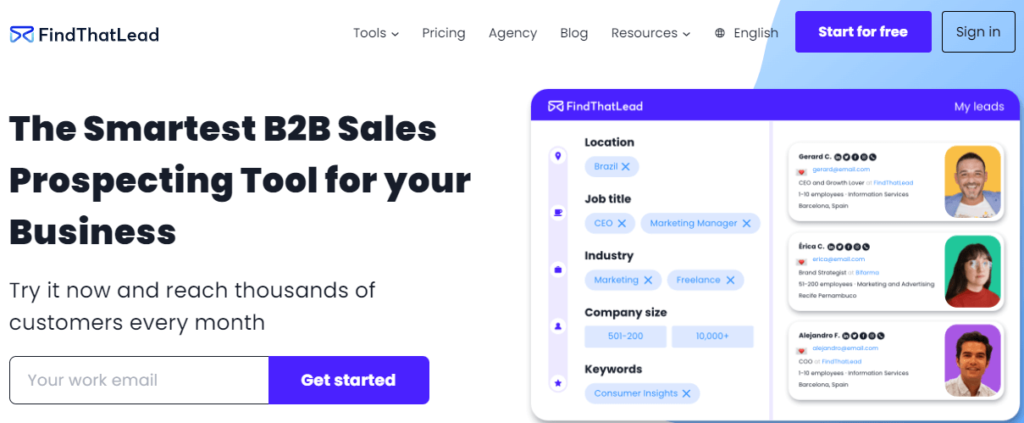 FindThatLead offers a powerful Email Verifier that allows you to check the validity of email addresses. With its advanced features, you can verify email addresses and keep your mailing lists clean, ensuring your emails reach the right audience and maximize your marketing efforts.
FindThatLead's email verifier offers real-time email verification, ensuring high accuracy. It offers bulk email verification, allowing you to verify entire email lists quickly and easily. And it also helps you to generate leads from any website without manual effort.
Pricing
FindThatLead provides an all-in-one email solution that includes email finding and verification services. You can verify email addresses or find contacts for just $49 per month for 5000 contacts.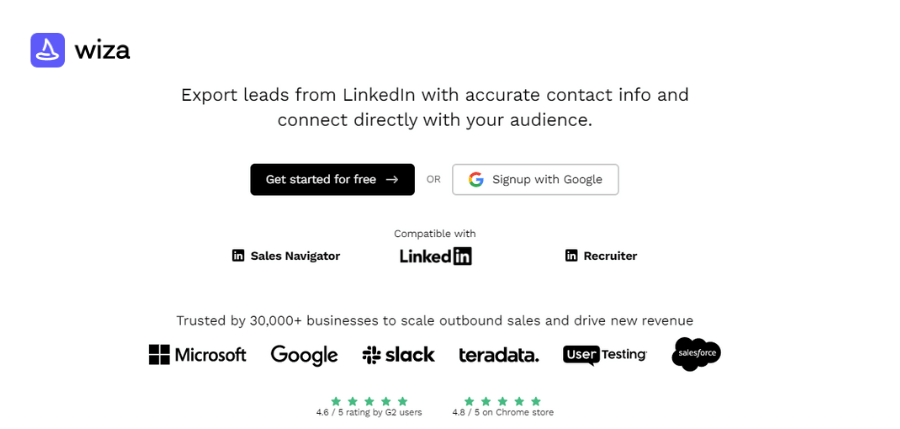 Wiza offers a fast and reliable email verification tool that ensures the email addresses you have are valid and active. With Wiza, you can instantly verify email addresses, improve your email deliverability, and reduce your bounce rate, all for free.
With Wiza's free email verifier, you can instantly verify any email address with 99% accuracy, ensuring that your emails always reach the right inbox. Whether you're a marketer or a recruiter, Wiza's mailbox verification feature guarantees that you're only sending emails to real, active email addresses, saving you time, effort, and headaches. Read Wiza Review.
Join the ranks of the biggest players in the industry! Wiza's powerful email verification tool has been trusted by over 30,000 businesses, including Microsoft, Google, Slack, and more. Sign up now and enjoy a free trial of unbeatable service.
Pricing
Wiza is the ultimate lead generation tool that allows you to find verified email addresses for your potential clients with 20 free credits. With Wiza, you can verify individual emails for free or sign up for their premium plan to access bulk email verification at an unbeatable price.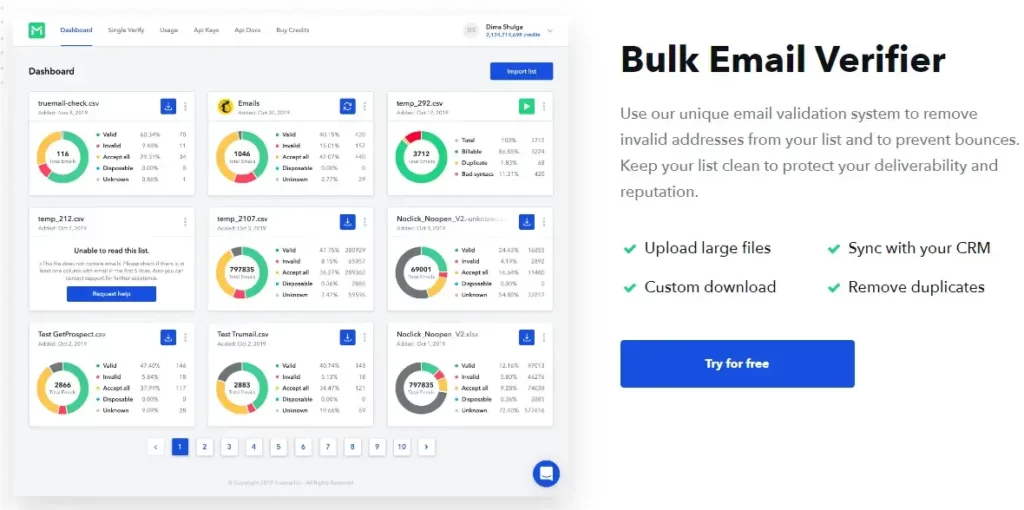 TrueMail is the ultimate email checker tool that guarantees to clean your mailing list and boost your deliverability rate by up to 99%. With the most accurate bulk email checker in the market, complete email address verification takes only seconds. Try out TrueMail online mail checker for free and get ready to clear your lists today!
Pricing
TrueMail provides transparent pricing options that are easy to understand. To verify 1,000 email addresses, it will cost $7, and for 5,000 email verifications, it will cost $29.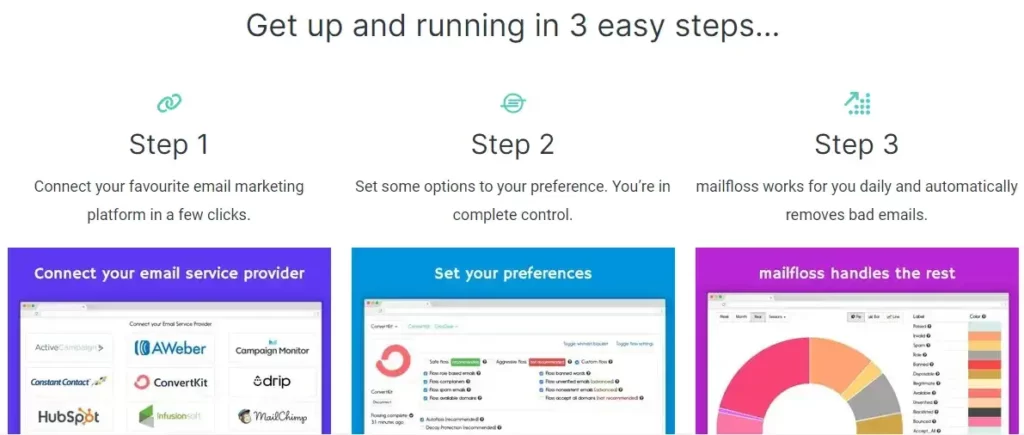 Mailfloss is the ultimate solution to ensure your email list is spotless and active. It's automated email verification and list-cleaning service seamlessly integrates with your email marketing software to provide you with an accurate, up-to-date, and spam-free email list.
With real-time verification, removal of duplicates, and detection of invalid and fake email addresses, you can be confident that your campaigns are reaching your target audience.
Pricing
Mailfloss offers a 7-day free trial, and you only have to pay if you are satisfied with the service. For a one-time purchase plan, you can verify 10,000 emails for just $20, and for a monthly plan, the cost is $17.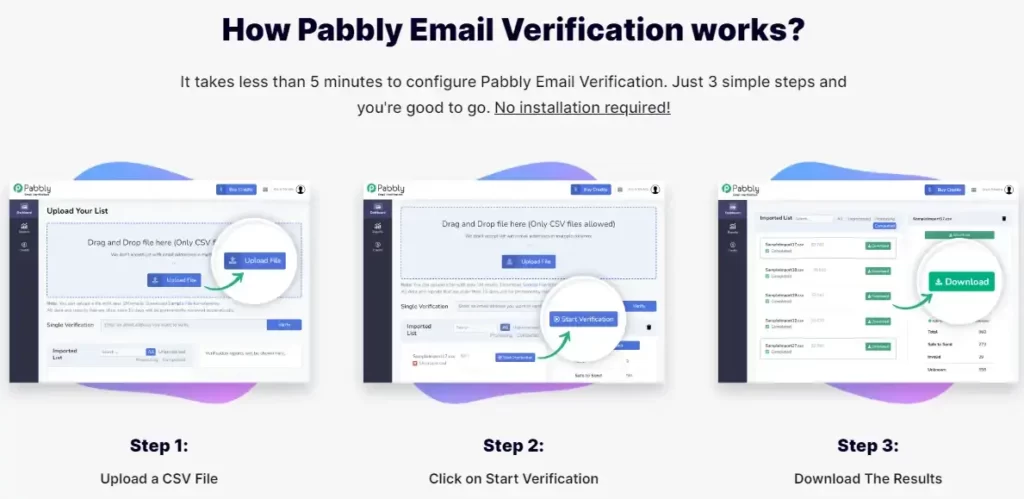 Pabbly Email Verification is a top-tier email verification service that ensures you get the most out of your email marketing campaign. It guarantees a 98%+ accuracy rate in email validation, with real-time verification, bulk email verification, and detailed reports.
With a user-friendly interface and easy integration, Pabbly Email Verification helps improve email deliverability and maximize marketing efforts.
Pricing
Pabbly offers email verification at a fraction of the cost charged by other major services, with twice the accuracy. It costs just $5 to verify 1000 emails and $15 to verify 5000 emails. Simply create an account, upload your email list and start the verification process.

CaptainVerify offers advanced email verification and cleaning services, including syntax, domain, and mailbox checks, to improve deliverability rates and reduce bounces. It also provides real-time verification with API integration and a user-friendly dashboard for easy management of email lists.
With CaptainVerify you can also verify customer phone numbers. It enables you to verify the availability of mobile phone numbers before reaching out to them. By performing an HLR lookup on the mobile network, CaptainVerify can ensure the validity of your numbers to operators, even in cases of portability.
Pricing
CaptainVerify provides a flexible pricing model that caters to your verification requirements. You can customize your offer according to your needs, with or without a commitment. To verify 1000 emails, it will cost you $7, and to verify 5000 emails, it will cost you $30.
MailboxValidator is a powerful email validation service that ensures your mailing list is free from invalid email addresses. With its secure and reliable features, it connects to the mail server to verify the existence of mailboxes, reducing email bounce rates and costs while improving conversion rates and sender reputation.
MailboxValidator features include mailbox existence checking, syntax validation, domain verification, disposable email detection, and more to help reduce email bounce rates and increase sender reputation.
Pricing
There are no setup fees or monthly subscriptions with MailboxValidator pricing plans. You simply purchase a plan (or multiple plans) that fits your needs. For 1000 emails, the cost is $19.95, and for 5000 emails, it's $39.95. Please note that purchased credits are valid for only 30 days.
ListWise is a user-friendly and free email verification tool that allows you to instantly verify the validity of any email address. It helps you ensure that your email list is clean and accurate by checking whether the mailbox really exists, and it can help you reduce your bounce rate and improve your email deliverability.
Pricing
Ideal for bulk email marketers seeking a one-time email list cleaning solution, without committing to a monthly subscription. Unused credits remain available for future use and never expire. To verify 1000 emails, the cost is $10, and to verify 5000 emails, the cost is $30.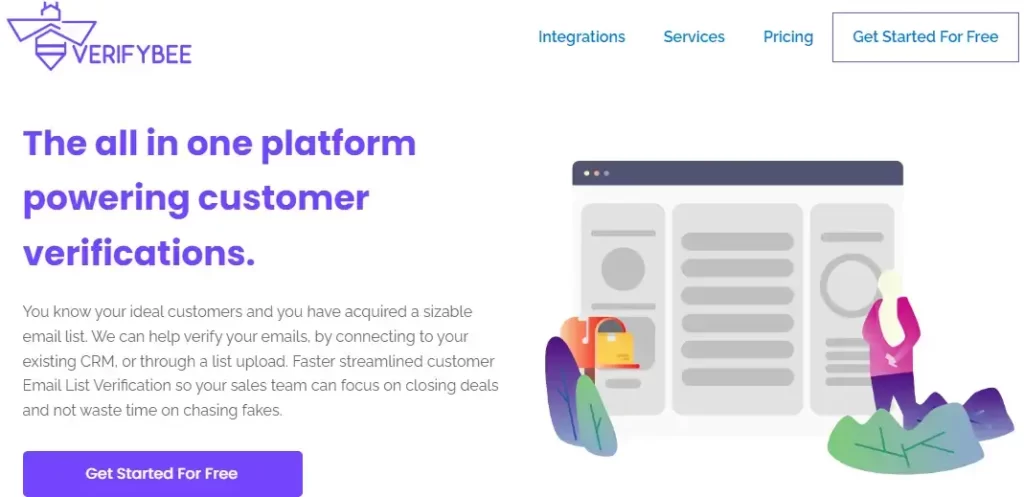 VerifyBee is an email verification service that offers advanced email list validation and verification services at affordable rates. It helps businesses and individuals to keep their mailing lists clean, reduce email bounce rates, and increase email deliverability.
VerifyBee offers a unique feature called "Catch-all Verification" that helps in identifying catch-all email addresses, which are hard to validate using traditional verification methods. It also provides a real-time API to integrate with other platforms, allowing users to verify emails on the go.
Pricing
Get your emails verified with VerifyBee – the most efficient email verification platform! And the best part? It's easy on your pocket! For just $19, you can verify up to 2500 emails and for $30, you can verify up to 5000 emails. Don't let invalid emails hurt your email campaigns – trust VerifyBee to help you reach your audience with confidence!

Kickbox is an email verification and list cleaning service that helps businesses improve their email deliverability rates and protect their sender reputation by identifying and removing invalid, inactive, or risky email addresses from their mailing lists.
Kickbox offers advanced email verification features such as disposable email detection, catch-all email detection, and mailbox existence checks. They also provide a real-time API that integrates with popular email marketing platforms and a detailed reporting dashboard that provides insight into your email list health.
Pricing
Experience the ultimate in accuracy and speed with Kickbox! For only $10, you can verify up to 1000 emails with lightning-fast results. And for just $40, you can verify up to 5000 emails, ensuring that your email list is pristine and ready to generate maximum results.

BriteVerify is an email verification service that helps businesses improve email deliverability by verifying the accuracy and validity of email addresses. It ensures that email campaigns reach inboxes and don't get lost in spam folders, resulting in improved sender reputation and higher ROI.
BriteVerify offers real-time email verification, batch processing, and an API for developers to integrate into any application. It also includes additional features such as domain correction and checking for catch-all email addresses to ensure maximum accuracy in email verification.
Pricing
BriteVerify offers an affordable and reliable email verification service. With just $40, you can verify up to 5,000 emails accurately and quickly. If you have a bigger list, you can opt for the 10,000 email verification plan which costs $80. BriteVerify ensures that your email list is clean and free from invalid or risky email addresses.
Conclusion
Email verification tools are essential for businesses and individuals who rely on email marketing to reach their customers or contacts. By ensuring that email addresses are valid and active, these tools can help to reduce bounce rates, protect sender reputation, and increase the success of email marketing campaigns.
Now you have a comprehensive list of the best email verification software available in the market, with each offering a range of unique features and benefits. While they all share similar levels of accuracy and functionality, the biggest difference lies in their cost. Some are more budget-friendly, while others come with a premium price tag. We recommend testing out each option to find the one that best suits your business needs.
With so many options available, it's essential to research and choose a reliable email verification tool that fits your specific needs and budget. Overall, using an email verification tool can improve the effectiveness and efficiency of email marketing efforts, ultimately leading to better communication with customers and contacts.