Around 1.5 billion people use Gmail for email communication. Gmail is a powerful tool, you can use it for sending emails, chatting with friends or clients, schedule video calls or meetings, storing data, block spam, create an address book, and many more. These are the common features of Gmail.
But still, people are not using Gmail to its full potential. Most of the people are not aware of the Gmail extension and its usage. Gmail is only email client that offer plenty of add-ons or extension to increase your productivity.  In this article you will understand what all Gmail extension available in the market that can help you to improve your efficiency and productivity.
What Is A Gmail Extension or Add-Ons?
Gmail extensions or Gmail add-ons are the tools that offer additional features to your Gmail account. Gmail extensions are available in the Chrome web store, where you can search for Gmail extension and install it in your Gmail.
But the question is which Gmail extension is useful; in this article, we have mentioned a couple of extensions that are helpful for Gmail users.
Why you should use Gmail Extension?
Gmail extensions or Gmail add-ons are basically to boost productivity, improve the Gmail experience, and get extra features that make your work easier and faster. With Gmail extension, you can send mail merge emails, send automated follow-ups, schedule emails, search and identify contact details, identify spelling and grammar mistakes in content, track email opens and clicks, and many tasks you can perform through Gmail extensions or add-ons.
15 Must Have Gmail Chrome Extensions to Increase Productivity
Here we have picked the best chrome extension for Gmail to enhance the Gmail experience and productivity.
1. GMass
GMass is the ultimate email productivity tool. With the GMass add-on, you can schedule emails, send out mass emails, mail merge campaigns, and more with Gmail.
GMass extension is a powerful and effective tool for Gmail. It helps you to save a lot of time and manual effort. It is capable of tracking email outreach performance, send automated emails, and follow up with your recipient.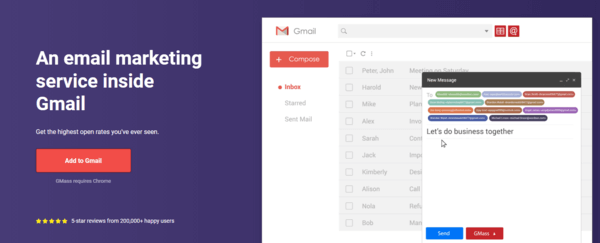 Top Features
Send Mass Emails in Gmail

Mail Merge with Google Sheets

Email Reporting Analytics

Personalization

Automatic Follow-up Email

Schedule Mass emails and Mail Merges

Behavior-based Campaigns

Reply Management

Email List Builder

Email Warm-up tools
Who can use GMass?
Salespeople to send cold emails

Marketer to send email campaigns

Startups to reach out to investors or customer
2. Clearbit
Clearbit is an outstanding lead generation tool, where you can find anyone's email address and contact details directly from your Gmail/GSuite account. With Clearbit you can easily find b2b contacts and reach out to your target prospects. Just install Clearbit extensions in Gmail, and you will be able to access millions of b2b contacts.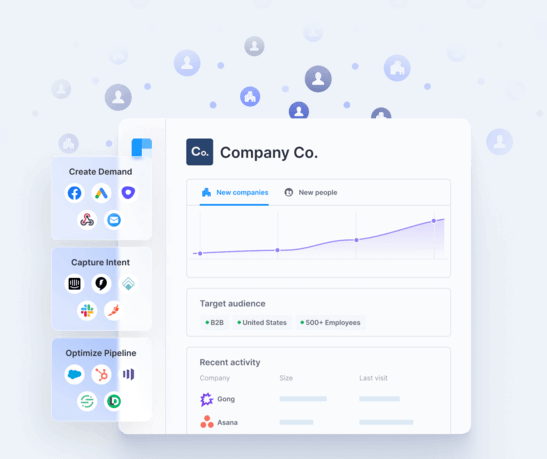 Top Features
Get access to millions of B2b data

Increase in new leads pipeline

Decrease in cost per qualified lead

Easily search through Gmail's sidebar

Get anyone's emails for free
Who can use Clearbit?
Best use for Sales and Business development professionals to get details of target prospects

Digital marketers to reach out right target audience

B2B professional who wants to target a specific company
3. Grammarly
Grammarly is a smart typing assistant tool that helps you to write better content in a second. Use Grammarly chrome extension to avoid grammatical errors and improve writing skills.

Top Features
Grammar checker

Spelling checker

Punctuation checker

Tone detector
Who can use Grammarly?
Content writers

Marketing and sales professionals

Students
4. Checker Plus
If you use Gmail daily and have multiple accounts then you will love Checker plus extension. With Checker Plus you can easily check incoming emails or even send emails without opening Gmail. It's a very useful and productive tool to manage Gmail effectively.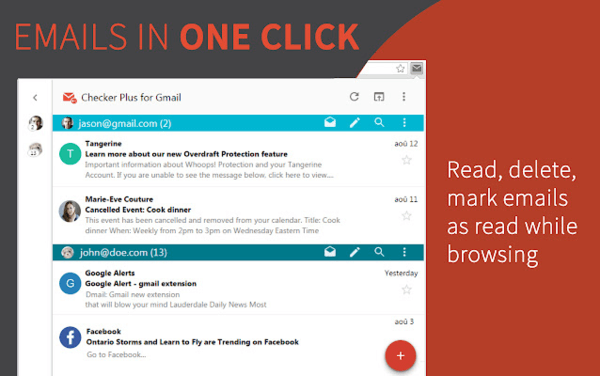 Top Features
Access Gmail without opening

Manage multiple Gmail accounts

Read, listen or delete emails

Get desktop notification

Add-ons available for Chrome and Mozilla Firefox
Who can use Checker Plus?
Any professional or Gmail user can use and manage their account. Checker Plus is a 5-star rated extension and is trusted by 1 million users.
5. Giphy Extension for Gmail
Giphy offers GIFs, Stickers, Emojis, and more to improve your Gmail experience. With the Giphy extension, you can search and discover suitable GIFS or Emojis for your email directly from Gmail.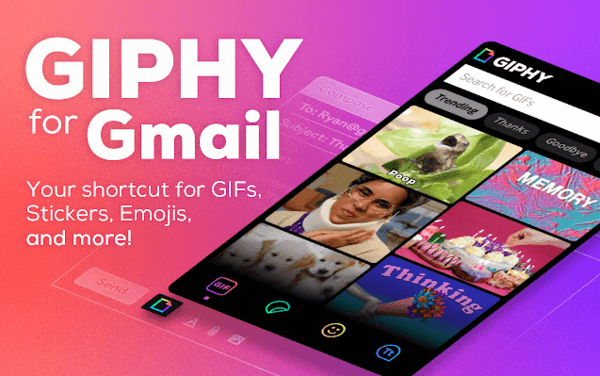 Top Features
Get any kind of GIFs

Vast GIPHY library

Easy to use and insert

Clear and beautiful graphics
Who can use Giphy?
Anybody who loves using Gifs in their emails or chat.
6. Mailtrack
Mailtrack is a free email tracking tool for Gmail that tracks email opens and clicks. With Mailtrack you can track email activity and manage effective communication. Mailtrack is trusted by 1,900,000 customers and rated 4.5 stars in the Chrome Store.

Top Features
Fast & Lightweight

Simple & Easy

Unlimited free email tracking

Accurate and reliable tracking

Real-time desktop notifications

Analyze the effectiveness of sales emails
Who can use Mailtrack?
Very useful for the sales team

Suitable for lead generation and marketing professionals

Any professionals who communicate through email
7. GetEmail.io for Gmail
GetEmail.io is an email finding tool, which finds the right email address of prospects directly from your Gmail. Install the GetEmail.io Gmail extension and get anyone's email address in seconds. Here are the best email finding tools to find anyone's email address for free.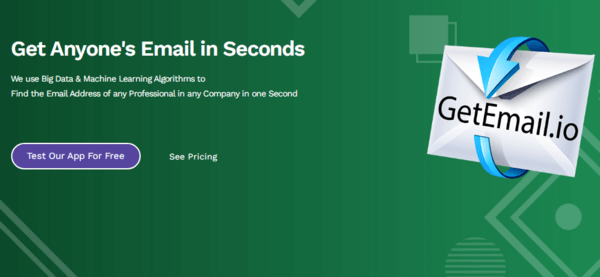 Top Features
Get anyone's email address

Easy to use Gmail extension

Work directly in your Gmail

Trusted by the world's biggest companies

Simple and efficient tool

Save a lot of time in prospecting
Who can use GetEmail.io?
Basically, GetEmail.io is useful for the cold email outreach teams. For teams that reach out to new prospects daily, it is easy to get prospects' email addresses.
8. Email Meter for Gmail
Email Meter is an email analytics tool that gives valuable insights into your team's email activity. Connect Email Meter with the team's mailboxes and get productivity insight to increase efficiency. Email Meter is trusted by more than 10000 companies to improve their email productivity.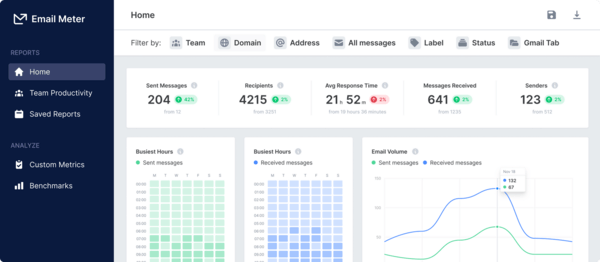 Top Features
All-in-one email analytics

Get insights and take action

Improve email workflows

Understand your inbox and make improvements

Schedule daily, weekly, or custom email reports
Who can use the Email Meter?
Email Meter is useful for teams and managers to get real data on how the team is working and track the team's productivity.
9. Speechify for Gmail
Speechify is a wonderful text-to-speech reader available for Gmail. It can read out any text, PDF, document, book, email, file, or article online. Speechify is a very impressive speech reader tools that save reading time and maximize your productivity.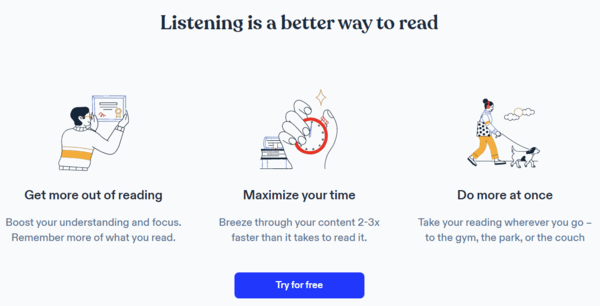 Top Features
Improve reading speed

Listen and do multi-task

Read more easily

Support 15+ exclusive languages

Listen on any device

Get more out of reading
Who can use Speechify?
Speechify can use readers, students, publications, and any person who wants to read faster and save time.
10. Inbox When Ready
Inbox When Ready is a browser extension that helps you to minimize the total time you spend in your inbox.  Inbox When Ready makes some changes to Gmail to help you cultivate a better email workflow. By using Inbox When Ready you can save easily one hour every week.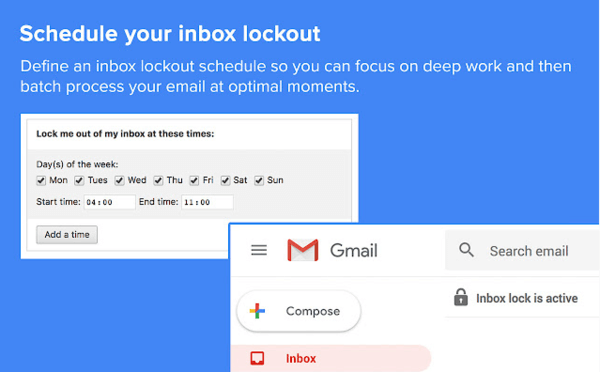 Top Features
Spend less time on email

Focus more on important work

Email productivity tools

Offer 14-day free trial
Who can use Inbox When Ready?
Inbox When Ready is a useful extension for any professionals who want to spend less time on emails and focus on important work.
11. Gmail™ Email Templates by cloudHQ
If you are looking for a pre-designed email template for Gmail then this extension can be useful for you. There are multiple types of email templates available for Gmail.
Top Features
600+ pre-designed templates

Create email templates with attachments

HTML email editor

Import MailChimp templates

Automatically replace merge tags

Email and phone support
Who can use Gmail™ Email Templates?
Email marketers

Sales professionals

Digital marketing professionals
12. Send Anywhere (For Gmail/Slack)
Send Anywhere is a useful Gmail extension, which helps to share large files more easily and efficiently. You can send files up to 50GB on Gmail/ Slack.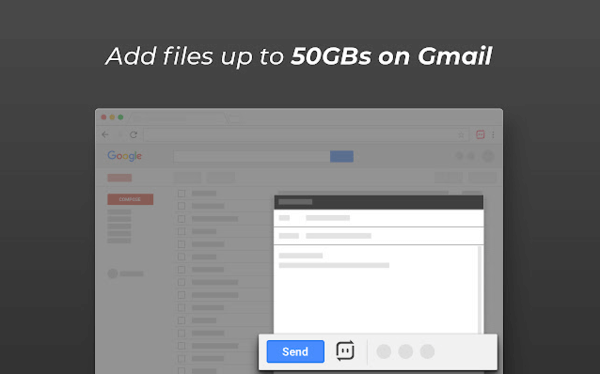 Top Features
Share files up to 50GBs

Gmail attachments

Add files on Slack

Share PDFs in a browser

Right-click image sharing
Who can use Send Anywhere?
Anybody who wants to share large files with their customer or colleagues.
13. Flowcrypt for Gmail
Flowcrypt is an end-to-end encryption tool for Gmail. You can keep your email secure and safe by using the Flowcrypt extension.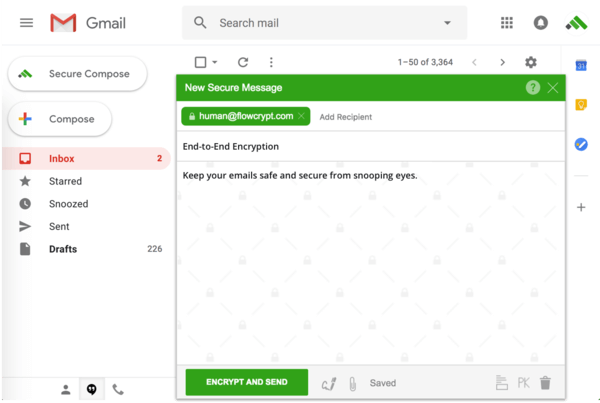 Top Features
Send encrypted email and attachments

Sets up in a few clicks

Digital signatures
Who can use Flowcrypt?
Any professionals who want to send encrypted email and attachments.
14. Zoom for Gmail
With Zoom add-ons, you can start conducting meetings or scheduling meetings with your client through Gmail. Zoom extension for Gmail easily allows you to connect with participants.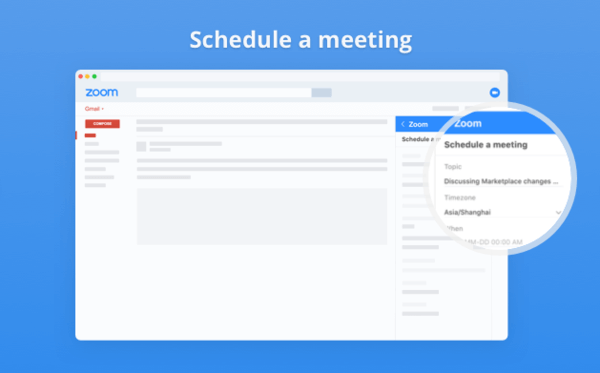 Top Features
High-quality video conferencing app.

Easily check the Zoom calendar for an upcoming call

Quickly video call with your colleagues from your inbox
Who can use Zoom?
Sales and marketing professionals to connect with each other

Useful to connect with your client through video conference

Useful to conduct webinars via Zoom meeting
15. Vocal: Send voice recordings in Gmail
Vocal Gmail extension can help you to send voice messages. Compose and record voice messages and communicate more efficiently with your clients.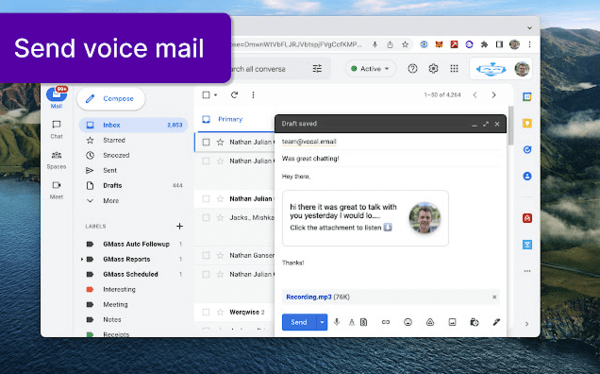 Top Features
Easily send voice recordings

Fast and simple

Shareable link generated in seconds

10x your productivity

Simple and fast
Who can use Vocal?
Any professionals who want to communicate with their clients more effectively and efficiently.
Conclusion
Gmail add-ons and extensions are very useful tools to improve productivity and efficiency. For busy professionals, it's challenging to save time and manage work. But Gmail add-ons and extensions save most of professionals time and improve their productivity.
These are very simple and easy-to-use Gmail extensions that anybody can use based on their requirement. Work smarter, take full benefits of Gmail extensions, and increase your efficiency. Spend less time on email and do more with Gmail.
Now, it's your turn: Make use of these 15 Gmail extensions or add-ons to manage your work and increase your productivity.